Discover Sutivan
ON BRAČ, THE LARGEST CROATIAN OLIVE AND STONE ISLAND, LIES A SMALL, SERENE AND PEACEFUL VILLAGE CALLED SUTIVAN.
Sutivan is a wonderfully charming place and happily welcomes visitors to explore all its hidden treasures. There is no noise, traffic and rush here to distract guests in experiencing the authentic smell and colour of Dalmatian cuisine and idyllic local living.
Intoxicating smell of pine trees and sound of waves on the beach invite weary travellers to rest in the shade of a tamarisk tree.
Song of crickets and warm wind will make you want to immediately dive into the clearest sea in the world. In the evening, when the sky is covered with stars, Sutivan entices you to try delicious Dalmatian cuisine specialties or have a refreshing drink in one of many bars along the coastline.
If you look up to the night sky in the middle of August, be prepared for amazing meteor shower known as 'Tears of St. Lawrence'.
The people's kindness, hospitality and diligence have made this place an oasis of peace and serenity. That is why Sutivan people happily welcome their guests and accept them as old friends.
Welcome to the untouched gem of Brač island – Stivan!
ABOUT SUTIVAN
Sutivan (Stivan) is a small town and port on northwest side of Brač, the highest and largest Dalmatian island situated in Split – Dalmatian county.
Together with Vičja Luka cove and Mala Tiha cove, Sutivan is a part of one of Croatia's smallest municipalities, surface area 2.181,31 ha. Population census of 2001 counted 747 permanent residents in Sutivan. Being closest to Split (13km), Sutivan used to have a direct ferry line but today ferries use Supetar port. Direct lines from Sutivan to Split are available only during the tourist season.
Beautiful coves line up along the coastilne: Stiniva, Likva, Stipanska and Vičja Luka. Most arable land can be found at the end of hollows, all the way to the sea. Mostly anthropogenic land is found on plateaus in higher parts of Sutivan cadaster municipality. Olive groves and vineyards dominate over most surface areas, compared to the number of acres, forrests, pastures or barren land on the island. The surface structure is a result of a hundred year long tradition of agriculture, which made Sutivan municipality number one in population density on cadaster surface area. On the turn of the last century, agriculture flourished with a high level of product per person and this is when Sutivan made its wealth on agriculture and help from diaspora. Many vineyards were neglected and some people changed crops and started planting citrus fruits but in the last ten years people have been turning to olive growing again.
Sutivan municipal area enjoys a Mediterranean climate: mild winters and hot summers. Average annual temperature is 16,5 °C. Temperature rarely falls below 0°C.
Geographical location and climate
Sutivan lies on 43°23'8″ north geographical latitude and 16°28'36" east geographical longitude. The distance from Split is 13.200 m. Sutivan is situated right across Split, 7 km west from Supetar. Surface area is 2.181,31 ha. The highest points are St. Rocchus 54m, Vrankamen 80m, Gustirna 87m, and St. Vincent 89m.
The climate is Mediterranean: mild winters and hot summers. Average yearly temperature is 16,5° C. The coldest month is January and the hottest is July. It is most cloudy in October and most rain falls in November and December. Average temperature in January: 9° C and in July: 28° C. Average annual precipitation: 258 l/m2.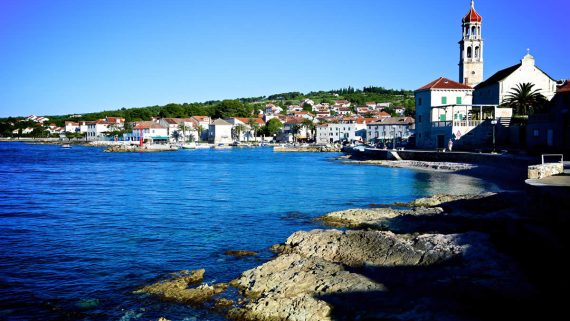 Sutivan has several beautiful pebble beaches, all surrounded by lush green pine forests. ( beach Bunta , Bistrica beach,Likva beach, Lučica etc.)
There are several lively bays in Sutivan, many of them are ideal for children since the sea is getting deep very slowly. If you prefere peace you can always find a calm place, where you are almost alone and where you can relax.
Clean bluest sea, fresh air and lovely beaches are calling you, visit us and enyoy in your vacation!
CULTURAL EVENINGS IN SUTIVAN